Ref:
Date:
Location:
Photographer:
Ref:
Date:
Location:
Photographer:
07/01/19
An experimental day creating a series of textural grounds which will be overprinted in a range of media to your own designs.
Saturday April 6th 2019
...more
07/01/19
Create a series of samples using Heat Transfer printing methods, cover a notebook and then develop your work with machine stitching.
Saturday March 16th and March 23rd
...more
18/01/18
Take home a notebook covered in original fabric that you have printed.
...more
04/09/15
Check out my workshops that I will be teaching this Autumn
...more
24/04/14
Learn how to use your coloured pencils to draw successful images
...more
24/04/14
Make your own pincushion cake from a variety of designs
...more
Fusibles 2
04/09/14
A sample in progress from a recent workshop using tyvek, heated and painted and then layered with iridescent fusible angelina fibres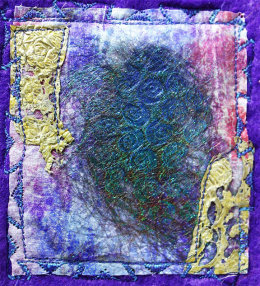 fusibles 3
04/09/14
A sample completed during a recent fusibles workshop which has been painted and stitched.
04/09/14
Create fabulous images quickly and easily with heat transferable dyes
...more
Disperse dyes 2
04/09/14
extra images for disperse dye techniques
Disperse dyes 3
04/09/14
More disperse/transfer print images
04/09/14
Another example of a finished transfer print
...more
24/04/14
Try some simple but very effective techniques for printing without the use of a press
...more
Experimental printing 2
04/09/14
A further example of a mixed media print using a variety of paints, inks and texture gels
04/09/14
Mixed media printing 4
04/09/14
A group of students on a recent mixed media printing course
24/04/14
Bought an embellisher and unsure what to do with it or want to try some new techniques with needle felting?
...more
24/04/14
Make your own necklace and earrings from papers
...more
workshops
I am a qualified lecturer in Art and Design and have extensive experience of teaching both academic and leisure courses.
I offer a wide range of Art and Design based courses.
My fees are £30 an hour plus expenses. I charge 40p per mile for travel and if I have to stay overnight I charge for the cheapest reasonable local accommodation